Link to Local Resources for Help During Coronavirus
Check out this link for resources.
​
Bay Area Coronavirus Update – Sunday, April 5, 2020
​
SERVICES
​
--Sunday, 10 AM at Bay Area Church of Christ Facebook page https://www.facebook.com/bayareacoc/.
If you don't use Facebook, go to www.vitalconcern.com/bayarealive/. (Sunday only)

--Wednesday, 7 PM at Bay Area Church of Christ Facebook page https://www.facebook.com/bayareacoc/
​
NEWS FROM THE OFFICE
We have SO MUCH to be grateful for! We woke up every day this week, we have no reports of anyone from our Church family having the virus. We have been able to stay in touch with each other via our weekly online worship (10am Sunday on Bay Area Church of Christ Facebook Page - click video) & with Tim's amazing Wednesday encouragement class (Wednesday 7pm - same location as above).
Robby's keeping up with our teens via Zoom, calls and yes - personal cards in the mail to all his kids! WHAT A BLESSING YOU ARE ROBBY JOHN! - AND BEST OF ALL- WE STILL SERVE AN AWESOME GOD!
​
THANKFUL: Bay Area family - you continue to amaze us and encourage us by the way you have continued your giving! We are obviously not on budget, but God is good and HIS work via Bay Area will continue. Once again, Tim, Robby and I are in the office, bills are being paid and funds are being sent. Just today funds to both of our Venezuela works went out.
​
PRAYER REQUESTS: Available at Vital Concern. Email george @ vitalconcern.com to sign up.
​
MISSIONS: All missionaries are still receiving support. Please remember that they too are being affected by the Coronavirus and they are continuing with their work as best they can. Report from Bernabela in Venezuela today, they can no longer bring the children in but will send food bags to the parents as long as there are funds to buy the food. Yenis her daughter said the parents were overwhelmed with the food bags sent home last week as they did not know how they were going to feed their children. Most of them have lost what little income they had. They are very grateful for the support we are able to give them. They are also preaching via their phones - (something like Zoom) where one preacher preaches and several locations can hear him. YOU CAN SEE PICTURES OF THIS IN THE FULL REPORT AT THIS LINK: www.vitalconcern.com/venezuela/March_Report_2020.pdf.
​
---Also missions- Our Saturday Homeless Outreach feedings have continued! Shout out to Dowayne Peterson who is overseeing this and helped everyone transition to a safe "touch free" to go dinners. Last Saturday they served over 30 meals! THANK YOU to our teams that faithfully serve this ministry every week! It's amazing what we can do if we have to be creative!

HAPPY ANNIVERSARY! Carl & Judy Poor today (57 Years!) Sam & Sandra Bush 4/6, Dale & Pam Parker 4/7, I.T & Xajay Antigha 4/11.
​
THANK YOU! I personally want to thank those who have sent cards of appreciation to the office this week for Tim's lessons, doing our best to keep everyone connected and informed. Little things like this can mean a lot in times like this.
​
ENCOURAGEMENT: As we are thankful for all of your notes of appreciation, please be thinking DAILY of who you can reach out to and be a blessing. Notes, calls, errands, care packages to Nursing homes, even cards to our little ones who are feeling the isolation of being at home - etc - be creative & be a light!
​
GIVING: We are so very grateful for your commitment to the Lords work. As a reminder, there are several ways to make your offering. 1) go to our webpage bayareachurch.com and click the "give" link in the top right hand corner. 2) you can download the Give+ app 3) you can mail it to the office - NOTE THE ADDRESS: Bay Area Church of Christ, PO BOX 1657, Mango FL 33550)
​
That's it for this week. If you have something encouraging, important for the church family to be aware of, please notify the office. We value & honor all prayer requests but we also WANT TO SHARE GOOD NEWS! Be safe, be well, be a light!

​
Bay Area Coronavirus Update – Sunday, March 29, 2020
​
We are still waiting on a vital piece of equipment to go totally live stream so this weeks Sunday Worship will continue to be on Facebook Live – Go to the Bay Area Church of Christ Facebook page – our Live worship will begin at 10 am Sunday morning.
Wednesday: 7 pm Bible class for everyone on Facebook Live with Tim.

Robby will have a Youth Group Bible class on Zoom on Sunday at 12 noon. Parents and teens – log in – be encouraged and connected!
Sunday evening 9 pm – Youth Group ZOOM "hang out."

Sunday evening 7 pm – Youth Group Lesson with Robby on ZOOM.
Be sure to take all advantage to stay connected and encouraged!!

If you have misplaced your online giving directions: Text to give: 813-295-2136. Download the APP GivePlus+ Mobile or simply go to our website: www.bayareachurch.com/online-giving
​
​
Bay Area Worship Online--Sunday, March 22, 2020
​
Bay Area Church of Christ will worship together online at 10:00 a.m. Sunday March 22 on the church Facebook page via Facebook Live. This will be the only way to participate.
​
A few minutes before 10:00, go to the Bay Area PUBLIC Facebook page, which is located at
​
You will need to log in as a member of Facebook.
Bay Area Coronavirus Update – March 14, 2020
After prayer and much discussion, the elders and deacons of Bay Area Church of Christ have decided to cancel Sunday and Wednesday services and classes through Wednesday, April 1 (a three-week period).
Obviously, this is related to growing concerns about spreading the coronavirus and infecting the physically compromised. Governor DeSantis has requested that groups cancel "mass gatherings." We know that the virus is highly contagious, a danger to older folks and those with certain health issues.
Nevertheless, the functioning of the Body of Christ must and will continue. We are praising God for the opportunity to join together in families and/or small groups to continue to devote ourselves to the Word of God, the breaking of bread, the fellowship, and prayer—our Vision, the Acts 2:42 church.
---On Sunday, March 15, please hold worship services in your home, with your family, or by yourself. Have a Bible lesson, sing some songs, pray together, take the Lord's Supper, and remember the opportunities for giving listed below.
---The following two Sundays, March 22 and 29, it will be possible to join in a Bay Area worship service that will be offered in two ways: video over the Internet (streaming), and via a phone conference call. Details on how to join in will be forthcoming.
---Beyond April 1, we will decide whether to resume meeting based on conditions as they develop.
---There will be several sources you can check for the latest information on activities:
• Email, if your email address is listed in the directory.
• The website, at www.bayareachurch.com.
• Vital Concern announcements.
• Any of Bay Area's Facebook pages.
• By calling the office at (813) 689-9620.
---We will publish a link to the bulletin at these sources.
---Make sure to post prayer requests on Vital Concern, or call the office, or email them to george@vitalconcern.com.
---Please continue your regular giving, so that the church will be able to pay staff (who will continue working), support missions and benevolence, and pay the bills for our facility. You can mail your contribution to the office (PO Box 1657, Mango, FL 33550) or give it online in the following ways:
• Text: 813-295-2136 with the amount in the message line.
• Download the App: GivePlus+ Mobile.
• At the church website: www.bayareachurch.com/online-giving.
Let us pray for one another, encourage one another, and be watchful for those in need. Let us watch for the special opportunities that are arising to be the Lord's witnesses at a time when many are reflecting on the frailty of human life. Let us expect the Lord to use this unusual time to strengthen us spiritually for Kingdom work. Let us keep serving King Jesus, faithfully, obediently, thankfully, and joyfully.
We are thrilled to have you join us today! Bay Area Church of Christ is special. Many first time visitors comment on a refreshing spirit of love as the fellowship continues long after the worship time is ended. The congregation is known for its friendliness, faith, diversity, and unity. We think this is the way it should be.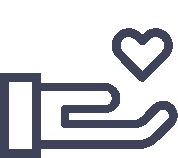 ​

"Whoever is generous to the poor lends to the lord, and he will repay him for his deed."